My hubby thought it was time to put up the Christmas tree and decorations.
So that was what we did last Sunday.
And what's a Christmas tree without these...
Our Homemade Handmade Topper
This 'event' reminded me of an Olympic torch bearer lighting the cauldron.
How about you?
Are the Christmas decorations up in your house already?
Happy Picnesday
And Happy Thanksgiving
Lovelies
!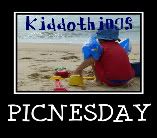 I have someone special to co-host Picnesday with me next week.
I hope you'll join me next week in welcoming that special someone.