If you've clicked this page hoping to see who my drunken friends are, you've been tricked!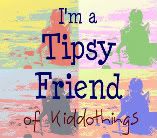 Tipsy Friends
is a Guest Post Series where I feature bloggy friends and readers of mine every fortnightly Fridays.
Tipsy Friends
is a place to welcome my friends into my bloghome and have them share some life tips with me and my other readers - especially tips on how to make life easier (just like how life would seem like after a bottle of wine). If you would like to be featured as a
Tipsy Friend
of mine, do drop me an e-mail at
kiddothings@gmail.com
. You can share tips on any topic you like except of course tips that are deemed unsuitable for kiddos. This is, after all, a mommy blog.