Since I wasn't going to get my son a skeleton costume
to wear in the house for his imaginary Halloween,
he decided to make one himself...
That's his smelly blankie and his sunglasses.
We are happy it didn't cost us a single cent.
Here are a few random pictures of
a Halloween in Malaysia
a carved styrofoam pumpkin
a spooky pumpkin house on a stage
in a mall
the inspiration for his costume
scary masks on sale
a severed leg
Happy Halloweeny Picnesday Everyone!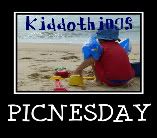 If you're into scrapbooking, Janice over at Mommy's Lounge has just the linky for you
Go share your scrapbooking talent with her!
Linked up with
By Word of Mouth Musings