Janice at
Mommy's Lounge
has a new linky for scrapbookers. I've never tried my hand at scrapbooking actually. Basically I don't have the patience to scrapbook. But if you are, go share your scrapbook pictures with her. I'm linking Picnesday up with Janice today with these photos I edited using
befunky.com
(thanks to
Stasha
). They're not exactly very scrapbooky but I was going bonkers trying to figure out how to digital scrapbook. I figured I'd just embellish these photos with whatever I could find in befunky - scrapbooking is about embellishing your pictures is it not?
Have a picture(s) to share this Wednesday?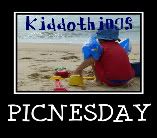 My husband when he was 6 months
My son when he was 6 months.
When my son was born, EVERYONE, and I mean every single person
told me how much he looked like my husband.
So we took the above picture of our son to compare it to my husband's old baby picture.
What do you think?


Linking up with