Warning: Nonsense overload. Kindly walk away if you don't have time to waste.
These are original word verifications that I've had to type before I could comment on some blogs. I actually find it a hassle to word verify before I comment but I've become accustomed to it. And to make the best of it I've decided to make it into a post. Don't worry, I didn't put a lot of thought in coming up with the meanings - it just came to me while I word verified. So here are some of the funniest I've encountered (with meanings)....
binap - when your biceps take a nap.
geniants - ants that can grant you 3 wishes. Just don't step on them.
apins - when you don't know your plurals from your singulars.
Traformas - Malaysian version of the Transformers.
friser - Frasier got fried.
agnes - someone I knew in school.
suckene - a nicer way to call someone who likes to suck.
whirrsep - how a China man says "worship"
flaskee - a good name for your dog
inessesh - trying to say INXS with a few teeth missing.
scrumbac - how Arnold Schwarzenegger would say "scumbag"
sioso - saying yes to Special Agent Oso in Spanish
Now you know why people have word verifications on their blogs - so that people like me have something to blog about.
Thank you for taking time to read my nonsense.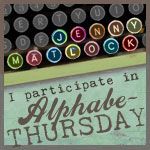 and hoping she won't give me an "F" for this.