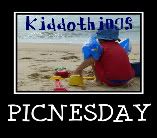 My first Picnesday for the year and I would like to do a picture wrap-up of the year that just left us.
I first chanced upon this idea from
Just Jennifer
,
then came to know on Monday that it's actually a link-up idea of
Robin of Farewell Stranger
,
which ended on Monday.
That's for being out of blogging for the holidays.
But what the heck,
here are pictures never before seen on my blog last year...
A short holiday up in Cameron Highlands.
Chinese New Year.
My 2 babes in their traditional chinese costumes.
No.1 turned 4!
Mashed potatoes I made for his birthday party
This was the crime scene.
May
Our holiday in Penang Island.
No, that's not a fisherman looking at my son.
That's my Dad.
New and old.
Daddy's Day.
My son made a card for his Daddy.
My son's Sport's Day
Splashing time in the pool
No.2 turned 2
Birthday Buns for my hubby!
Not mine.
They were deep fried buns (the kind made of flour) served on top of stewed lamb and gravy.
It was part of an 8-course dinner at a Chinese restaurant to celebrate my hubby's birthday.
Trust the Chinese to come up with dishes that look disgusting yet delicious.
A field trip to the graveyard to visit our dearly departed.
My angels and their great grandmother.
Ah yes, Christmas.
Who can forget.
And with that
Thanks for the good times.