Since
Monday Listicles
has set the mood for family trees this week, I thought I'd share the latest addition to my family. No, I didn't just give birth, my cousin's wife did!
He has an unforgettable birth date
He's the mango of my aunt's and uncle's eyes.
And he's juicy and sweet!
Welcome to the family, Little One.
We love you very much.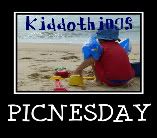 Happy Picnesday Friends!