I hope you weren't bored to tears reading about my
first 2 months
of blogging, because here I am again writing about how the next 3 months after that was like.
April
was the month I discovered Twitter and it drove me a little crazy, which led to this post:
Going Cuckoo Over Twitter
.
Then I went against my own words never to have a Facebook account and went on to
not only
open a Facebook account but also
fall in love
with it. For the record, I'm not
that
in love with it anymore.
I also discovered linky love in April where I participated in my first link-up with
Lovelinks
. I linked up this post:
The Convenience of Having a Willy
which was inspired by my contractor who so graciously decided to "water and fertilize" my dying potted plant.
May
was Mommy Month and seeing that it was my first year of blogging, I wrote a tribute to none other than
my beloved Mommy
.
Also, in May, my son hit on
3 girls in less than 15 minutes
. I was so proud. Actually, I was more shocked than proud.
June
was Award Month! I received my first award and revealed
7 previously unknown facts about myself
!
Oh, I was also interviewed in June! Read all about it
HERE
.
Let's see, what else...
- came up with a
Photo Guessing Fun
series which has been shelved since
Picnesday
came along.
- wrote about
Common Courtesies In Bloggyland
- and made my own
Blog Button
I guess that's it for the 2nd quarter!
Have fun recapping with these girls!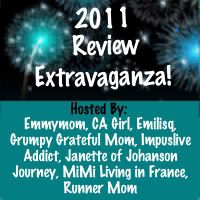 Also linking up with sweet Bruna for
And I'm the featured Friend for this week!!
Happy Weekend to all!